First thing, first! Being a bridesmaid for the first time or even after being one before, both demand the initial phases of confusion in deciding the color of the gown you're going to wear. There would be shades you wouldn't want to repeat and shades that you would want to try out but are unsure of if it is right for you. Cases like these help to explain why special attention is required for the choice of color for the bridesmaids and each season of the year asks for its own set of accompanying shades that would be right for you. Struggling to pick the perfect bridesmaid dress color? Check out some tips from becomegorgeous.com.
Listed below are the six color suggestions perfect for you in the winter: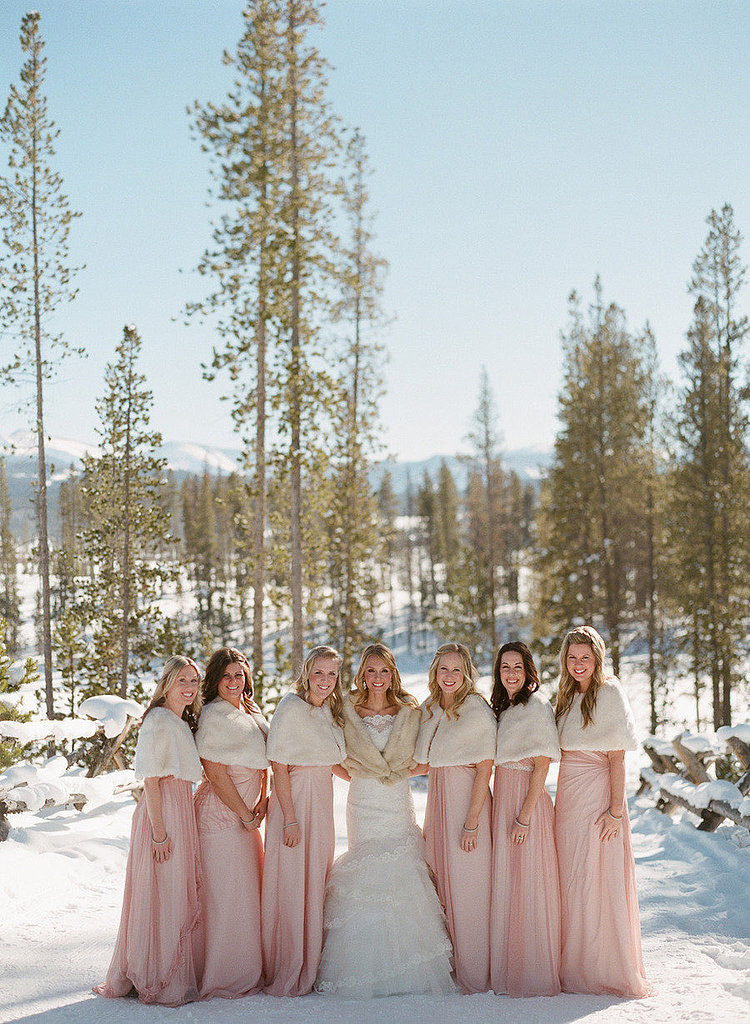 Are you being counted on by the bride to keep her calm headed on her wedding day? It would a fabulous idea to wear blush pink as it expresses peace, love, and sweetness, and if that's exactly the kind of positive energy you want to create. Not only that, such energy can build the warmth needed in a wintry affair. How will blush pink compliment you? The color pink is known to be playful, romantic and charming. Blush pink is the color for adorableness as it screams 'cute.' You may catch the attention of some cutie to yourself! 

If you want to play safe and are not too sure about what color to choose, pastels should be your pick because the kind of soft pastel shades has, brings a flair of seamless attractiveness. The color pastel blue particularly has its unique ability to convey feelings of confidence, intelligence, faith, sincerity, and tranquility. The snow-white background of the wedding venue itself will work to enrich all these feelings! This makes it a stunning color to wear, especially for a wedding in the snow.
Frozen princess look never disappoints the eyes. Blue itself is very soothing. It automatically sets an image that you are a friendly person. Ice Blue, in particular, is known to be one of the most refreshing colors available. It is a pale, pure, teal aqua-green with a jewel undertone. You can easily share a mutual taste with the crowd as blue happens to be the favorite color for a lot of people. This means you are likely to be quite hard to resist, especially in the cold.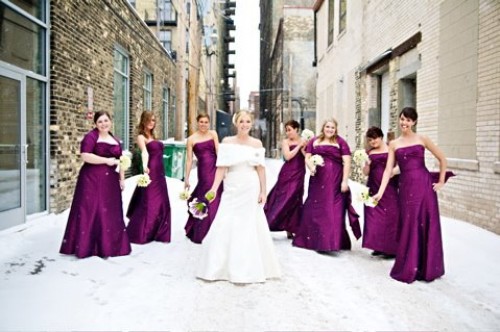 Do you want to fill the chilly atmosphere with royalty, elegance, independence, power, and ambition? You can effortlessly do so by wearing a dark plum gown which will make all these vibes noticeably captivating even amidst the busy ceremonial events. After all, you will be playing a very significant role in the wedding by being a bridesmaid and such a position requires a powerful personality and the shade dark plum will communicate this, with grace. Nora Gouma got some great recommendation on purple shade bridesmaid drsses.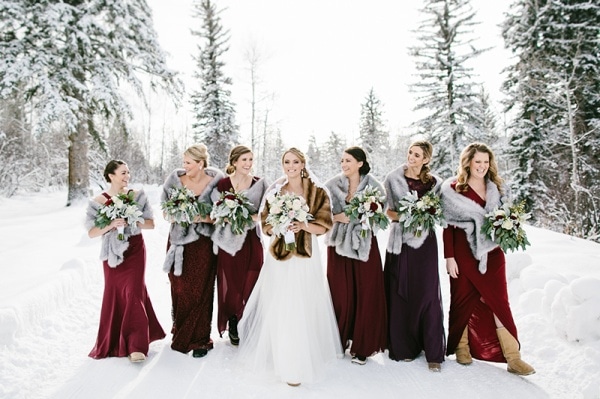 If you're a boss lady then definitely go for burgundy! This color represents authority. The bride will definitely expect a little extra from you as you'll look mature, proud and extremely classy. You'd probably give out the impression that you're on a mission! No matter what your skin tone is, burgundy will make you look like an aggressive aristocrat. A wedding in the snow can pocket definition and life into its frosts with shades of burgundy.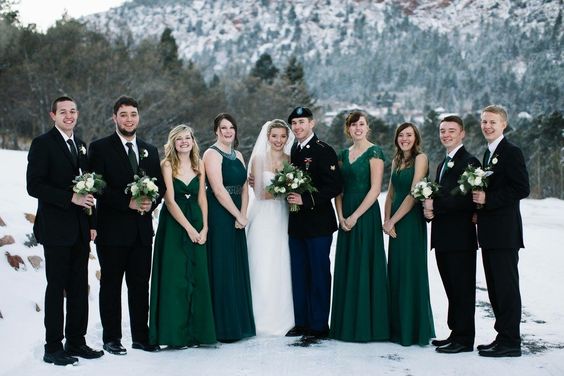 Weddings can be difficult – we can all agree on that. Having to maintain all the schedules and all the people can become messy if things fall out of balance. And a one in the snow? It is already too cold to be doing so much and being a bridesmaid means you got some special work to do for the big occasion of a woman very dear to you. In this case, pick emerald green as it helps balance emotions and promote calm and clarity. It is a color that goes on the eyes. The color also has a strong association with nature. It is the color of luck, freshness, and renewal.
Contributing Writer: Annie Mao